Governor Larry Hogan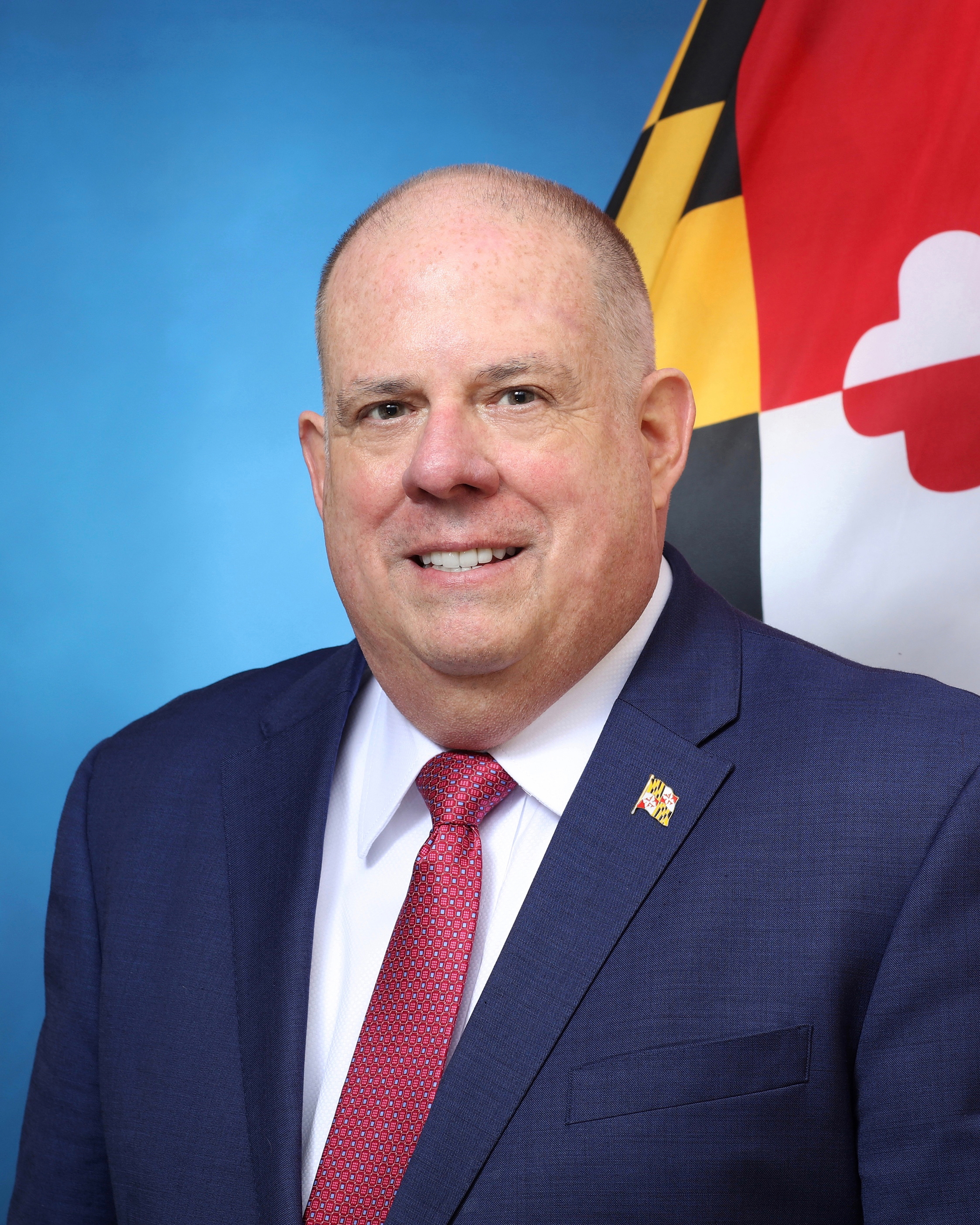 Governor Lawrence J. Hogan Jr. was inaugurated as the 62nd governor of the State of Maryland on January 21, 2015. He is only the second Republican governor to be elected in Maryland in nearly 50 years, and the first governor from Anne Arundel County to be elected in over 100 years.

Before his election, Governor Hogan worked in the private sector for more than 25 years as a successful Maryland entrepreneur and small business owner. Frustrated with the out-of-touch leadership in Annapolis, he founded Change Maryland, the largest nonpartisan organization in state history, dedicated to bringing fiscal responsibility and common sense to state government.
Spurred by massive public engagement and the success of Change Maryland, Governor Hogan ran for the state's highest office in 2014 on a platform of fiscal restraint, tax relief, and job creation. On November 5, 2014, he won 20 out of 23 counties by an average of 35 percent, leading to the return of balanced government to Annapolis for the first time since 2006.

Upon taking office, Governor Hogan took immediate action to rein in state spending and return the state to sound fiscal ground. He has cut tolls at every single toll facility across the state for the first time in more than 50 years, reduced or eliminated hundreds of fees, halted or streamlined more than 800 regulations, repealed the notorious rain tax mandate, and provided tax relief for small businesses, middle class families, and retirees. In total, Governor Hogan has provided more than $1.2 billion in tax, toll, and fee relief for hardworking Marylanders.
Governor Hogan's commitment to restoring Maryland's economy and creating jobs has yielded real results. His first year in office was the most successful in total job creation and private-sector job growth in the last 15 years, and after previously losing over 100,000 jobs, Maryland has created nearly 100,000 jobs under Governor Hogan's leadership.
Governor Hogan believes that every child deserves access to a world-class education, regardless of where they grow up, and ensuring Maryland has a strong education system has been a top priority for the Hogan administration. The governor has provided record funding for K-12 public education each year, totaling a record investment of more than $25 billion since taking office, and per-pupil funding has increased in every jurisdiction across the state. In 2018, Governor Hogan joined with the Maryland General Assembly to pass landmark school safety legislation, providing tens of millions in additional funding for schools in every jurisdiction to implement new safety standards.
Governor Hogan has taken swift action to relieve traffic congestion and get Marylanders moving again, making historic investments in roads, bridges, and transit. During his first year in office, he invested an unprecedented $2 billion in transportation funding, allowing the state to move forward on top priority road projects in every jurisdiction and fixing every single structurally deficient bridge in Maryland. As of June 2018, all 69 of Maryland's structurally deficient bridges have been repaired, replaced, or are currently in progress, and more than half of all state highway miles have been repaved or resurfaced. Also in 2018, Governor Hogan introduced his $9 billion Traffic Relief Plan to widen the Capital Beltway, I-270, and the Baltimore-Washington Parkway, which is the largest transportation Public-Private Partnership in North America.
The Hogan administration is moving forward with critical transit priorities, including the construction of the $5.6 billion Purple Line light rail project in Montgomery and Prince George's counties, with service scheduled to begin in 2022. In April 2018, Governor Hogan signed landmark bipartisan legislation to provide $167 million in dedicated funding for the Metro system after becoming the first regional leader to propose a solution to address Metro's half-billion dollar annual shortfall.
The Hogan administration has made historic progress to protect and preserve Maryland's environment, including the state's most precious natural asset: the Chesapeake Bay. Within his first weeks of taking office, Governor Hogan worked closely with the agricultural and environmental communities to develop enhanced Phosphorus Management Tool regulations – one of the state's most significant environmental policy advancements in a generation – and, after decades of inaction, moved forward to reduce sediment trapped behind the Conowingo Dam. In total, Governor Hogan has dedicated over $4 billion to wide-ranging Bay restoration initiatives, as well as enacting some of the most stringent air quality standards in the nation. He currently serves as Chair of the Chesapeake Executive Council, which represents the six Bay states and Washington, D.C., as well as numerous environmental stakeholders.
To combat the opioid crisis ravaging communities across the state and nation, Governor Hogan created the Maryland Heroin and Opioid Emergency Task Force immediately after taking office. In March 2017, he became the first governor in the country to declare a State of Emergency in response to the opioid epidemic, and established the Opioid Operational Command Center. The Hogan administration has committed over half a billion dollars in funding to address substance use disorders, and continues to fight each and every day to turn the tide of this crisis through prevention, treatment, and enforcement initiatives, and ultimately save Marylanders' lives.

Governor Hogan is committed to creating safer and revitalized communities, including closing the deplorable Baltimore City Detention Center and launching Project C.O.R.E., a $700 million initiative to address blight in Baltimore. In December 2017, Governor Hogan proposed a series of crime initiatives to address repeat violent offenders and criminal gang enterprises terrorizing communities across the state, and signed into law bipartisan legislation creating tougher penalties for repeat violent offenders and individuals committing crimes with a firearm.
Governor Hogan is recognized as a leader on both regional and national stages. In 2018, he was unanimously elected as Vice-Chair of the National Governors Association (NGA) by bipartisan governors from across the country. Governor Hogan has served on the NGA's executive committee since 2017, and is the incoming Chair of the Finance Committee and the NGA Best Practices Board. He also serves as Co-Chair of the Water Policy Learning Network and previously served as Chair of the Economic Development & Commerce Committee.
Since taking office, Governor Hogan has faced a number of unexpected challenges. Just ninety days after his inauguration, Baltimore City was overwhelmed with the worst violence the city had experienced in 47 years. Governor Hogan acted swiftly and decisively, declaring a State of Emergency and calling in the National Guard. Order was restored, and the Hogan administration received credit for strong leadership and a rapid and effective response.

Sixty days after the riots in Baltimore, Governor Hogan was diagnosed with Stage 3 non-Hodgkin's Lymphoma. Over the next five months, he underwent 30 days of aggressive, 24-hour chemotherapy, multiple surgeries, spinal taps, scans, drug therapies, and other procedures. On November 16, 2015 he announced that he was 100% cancer free and in complete remission. Since waging his own fight, Governor Hogan has made it his mission to raise awareness for those battling cancer and support efforts to find a cure.

Governor Hogan is married to Yumi Hogan, a first generation Korean-American, artist and teacher. She is the first Asian First Lady in Maryland history and the first Korean-American First Lady in United States history. They have three daughters: Julie, Jaymi, and Kim; four grandchildren; and two shih tzu dogs, Anna and Chessie.
Download Governor Hogan's headshot here.