Hogan-Rutherford Administration Announces Unprecedented Outreach Efforts to Ensure Complete Count of Marylanders for Census 2020
ANNAPOLIS, MD—Lt. Governor Boyd K. Rutherford today announced the state's strategic plan to ensure that all Marylanders are counted in the upcoming decennial census.
"The Hogan-Rutherford administration continues to reach out across the state to remind and encourage each resident to complete their Census 2020 forms," said Lt. Governor Rutherford. "It is critical that every Marylander is counted. Every single response directly impacts the services that our communities receive. We want the people of Maryland to know this process is important, easy, and safe, and will shape their future. Funding for schools, hospitals, roads and other emergency and essential services rely on our responses. I urge everyone to fulfill their civic duty and help Maryland receive our fair share of the billions of dollars in federal funding we deserve."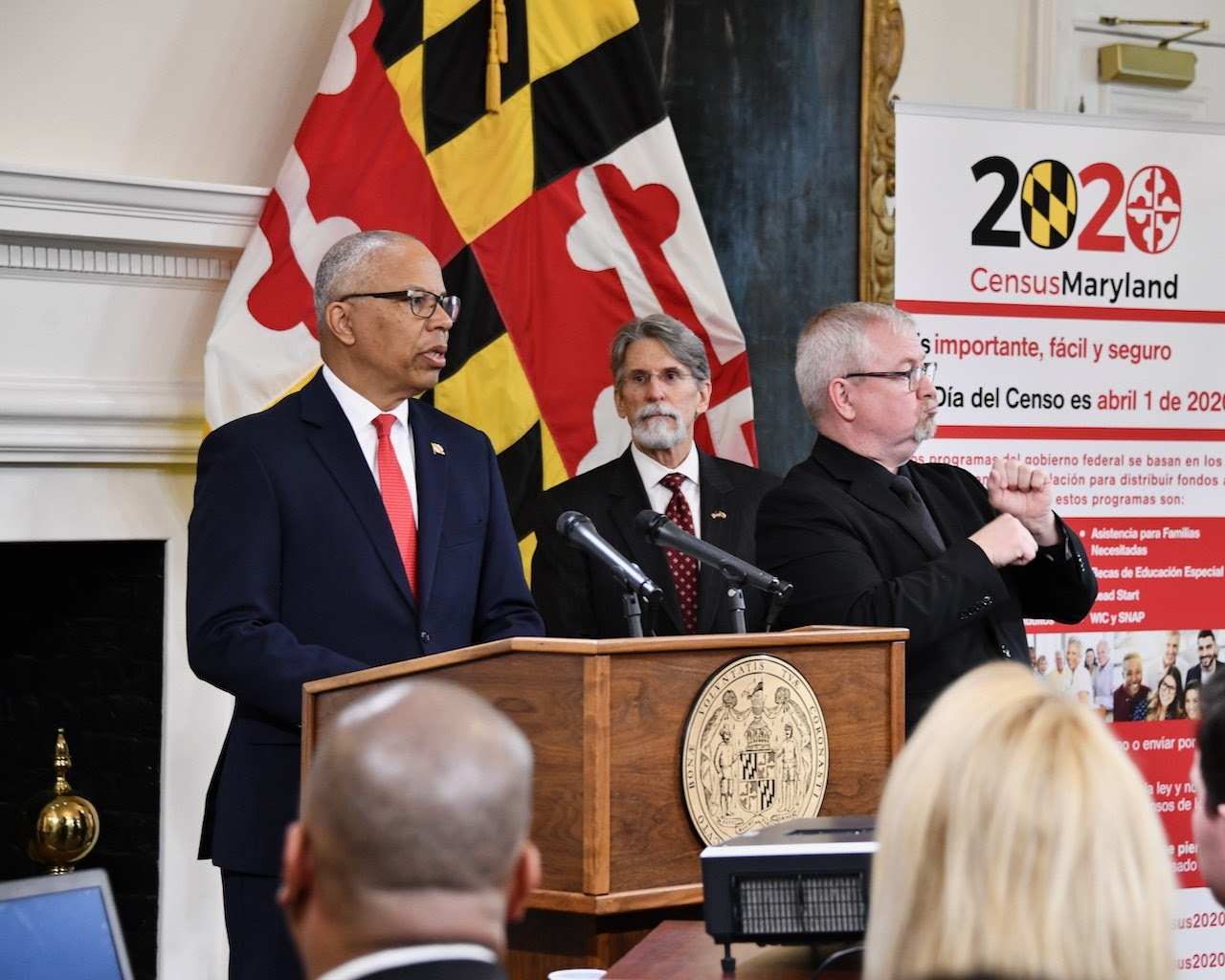 Governor Hogan, First Lady Hogan, and Lt. Governor Rutherford have each created a public service announcement (PSA) to ask Marylanders to participate in the 2020 Census. The PSAs remind citizens how the Census impacts the federal funding for vital services to states based on response rates. The messages also provide information on how the Census impacts the reapportionment of Maryland's congressional lines, and convey the safety of the process to remind those completing the forms that responses are kept confidential and are not shared with any agencies outside of the U.S. Census Bureau who uses the information for data purposes only.

(Watch)

(Watch in English)
(Watch in Korean)

(Watch)
In addition to the PSAs, the state has an aggressive plan of action to motivate Marylanders to complete the 2020 Census. Postcards from the U.S. Census Bureau notifying residents of the timeline for Census 2020 will begin landing in mailboxes in mid-March. The Maryland Department of Planning has coordinated a dynamic multi-media messaging strategy including television, radio, digital, and social media ads, which will roll out beginning March 12, 2020 to every part of the state and concentrated in areas that have historically underreported communities and populations. Additionally, bus signage and billboards in hard-to-count areas will encourage Census completion. Both English and Spanish versions of advertising are being circulated and other collateral materials are available in a multitude of languages on the state's Census website.
"We are using 21st century tools for a 21st century Census," said Maryland Planning Secretary Robert McCord. "We have tailored our messaging at the right time for the right audience to motivate people to act. We have also provided approximately $5 million to counties, municipalities, and nonprofit organizations to partner with us in spreading the word. A successful Census is a top priority of Governor Hogan and every state agency, and we are committed to ensuring that Maryland achieves an accurate and complete count. The Governor has provided the resources necessary to accomplish this and we will do everything in our power to reach each and every resident."
The Hogan-Rutherford administration has committed an unprecedented investment in reaching a complete count of everyone in Maryland. Approximately $10 million is being expended on outreach efforts. This figure includes a $5 million state investment, leveraging another $4.1 million in matching grants, in grant funding and over $1.6 million in advertising. 2020 Census preparation has been ongoing since 2015.
-###-