PHOTO RELEASE: Governor Hogan Highlights Maryland's COVID-19 Recovery With Visits to Montgomery, Frederick Counties
Tours Novavax Headquarters in Gaithersburg For Vaccine Update
Visits Frederick County Schools Conducting In-Person Learning
Continues Promotion of Maryland Restaurant Week and National Small Business Week  
ANNAPOLIS, MD—As Maryland again reported record low COVID-19 metrics, Governor Larry Hogan highlighted the state's ongoing recovery with visits to Montgomery and Frederick Counties.
Novavax, Inc. in Gaithersburg. Governor Hogan toured the headquarters of Novavax, Inc.—one of nearly 40 Maryland companies that are working on developing and manufacturing COVID-19 vaccines and therapeutics, improving diagnostic tests, and providing clinical research and technological support to ensure safe and effective health care delivery. Click here for more photos.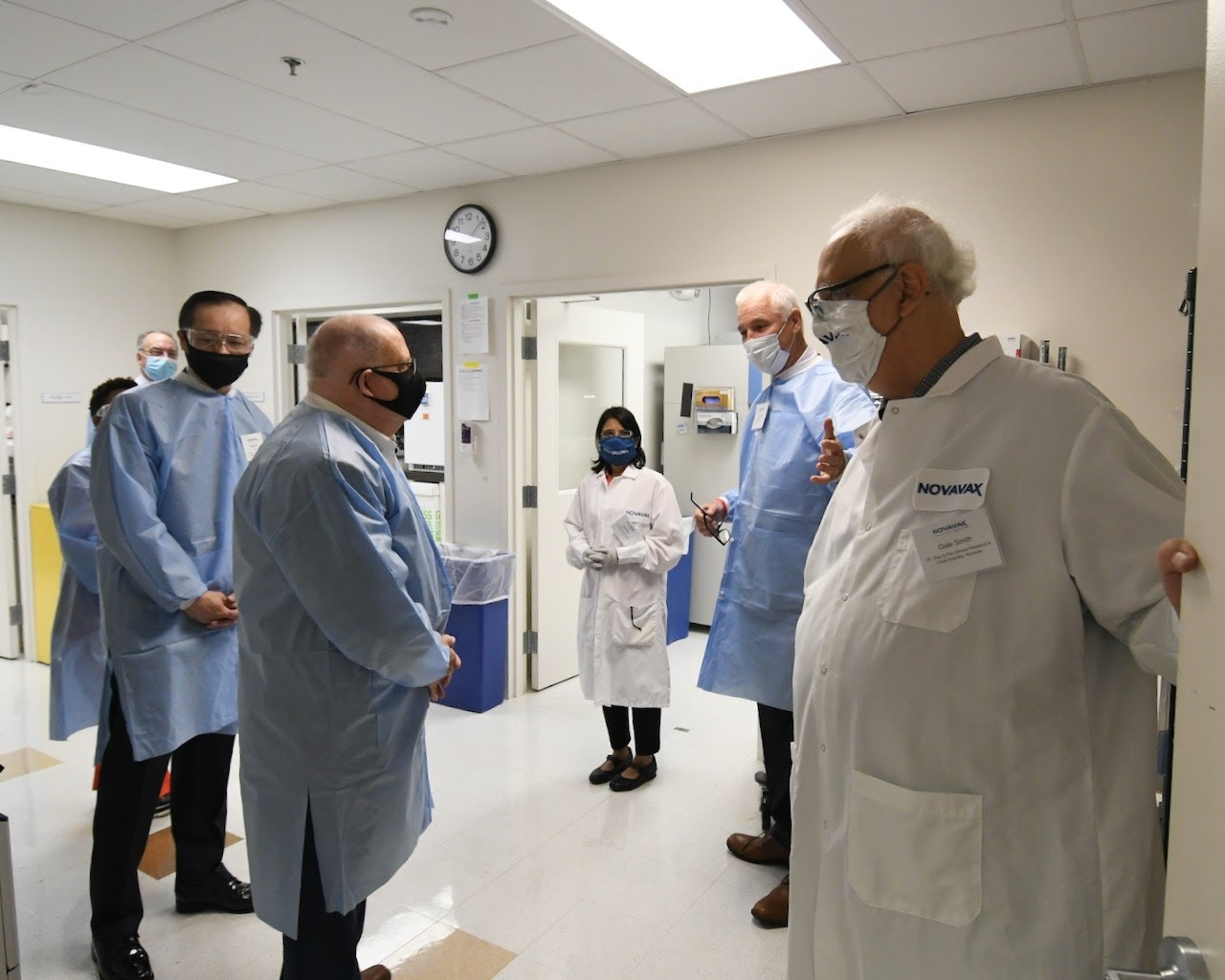 Governor Hogan tours Novavax's immunology and discovery laboratories.
"When the COVID-19 crisis began, even before we had our first confirmed cases, I said that our state was home to some of the top health research facilities in the world, and I hoped that we might be a part of developing treatments and perhaps even a vaccine for this deadly virus," said Governor Hogan. "Novavax took that challenge and immediately hit the ground running. The State of Maryland is proud to support the efforts of Novavax and our entire hub of life sciences companies, which is at the forefront in the fight against COVID-19."

Governor Hogan, along with Maryland Secretary of Commerce Kelly Schulz, visits Warehouse Cinemas.
Warehouse Cinemas, Frederick. Governor Hogan toured and presented a citation to Warehouse Cinemas in Frederick, which recently opened its doors with thorough health and safety protocols to keep moviegoers safe. The state-of-the-art theater, which will help create more than 70 jobs, will be a cornerstone of the revitalization of Frederick's Golden Mile. Click here for more photos.

Governor Hogan visits biomedical sciences students at Frederick County Career & Technology Center.
Frederick County Schools. Governor Hogan toured Waverly Elementary School and the Frederick County Career & Technology Center to observe Frederick County's in-person learning model. After their tours, the governor and State Superintendent of Schools Dr. Karen Salmon announced the return of fall sports in Maryland.

Governor Hogan greets Marylanders taking advantage of outdoor dining opportunities in downtown Frederick.
Frederick Walking Tour. During a walking tour of downtown Frederick, Governor Hogan continued to promote the state's first-ever Maryland Restaurant Week, which began on Friday, September 18 and runs through Sunday, September 27, as well as National Small Business Week, which began on Sunday, September 20 and runs through Saturday, September 26. Marylanders are encouraged to support their local restaurants and small businesses.
-###-