Photo Release: Governor Hogan Announces Military Initiatives at National Guard Armory
Expands Tuition Assistance for Maryland National Guard Members, Eliminates State Taxes on Military Retirement Income, Reforms Occupational Licensing Laws to Help Military Families
ANNAPOLIS, MD—Governor Larry Hogan today announced new military initiatives at the Joint Force Headquarters, Fifth Regiment Armory in Baltimore. These initiatives include a package of legislation that will expand tuition assistance for Maryland National Guard members, provide tax relief for military retirees, and reform occupational licensing laws to create jobs and boost opportunities for military families. The governor was joined by Maryland Adjutant General Major General Timothy E. Gowen, Maryland Secretary of Veterans Affairs George Owings III, and Maryland Secretary of Labor Tiffany Robinson.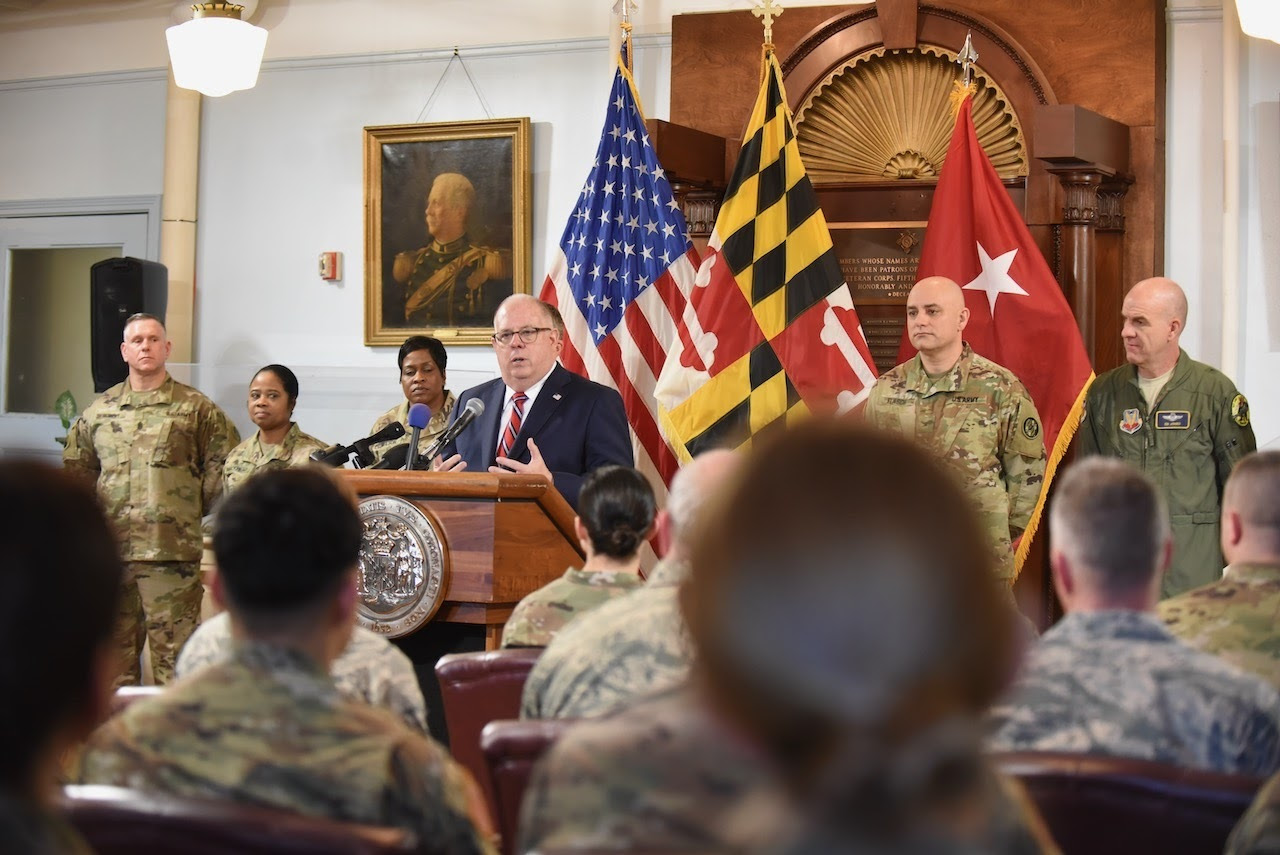 "Last month, we wrapped up our celebration of 2019 as the Year of the Veteran in Maryland, but we can never do enough to raise awareness—every year should be a year to show our appreciation for the brave service and sacrifice our United States veterans and families have made for Maryland and for our nation," said Governor Hogan. "With the legislation we are introducing today, we are continuing to demonstrate our strong support for our military retirees, active duty military personnel and their families, and for our National Guard soldiers and airmen."
Maryland is home to 370,000 veterans, 29,000 active duty military personnel, 19,000 reservists, and nearly 6,000 members of our National Guard.
Expanding Tuition Assistance for Maryland National Guard Members
Governor Hogan will introduce new legislation to allow the state to reimburse up to 100% of the cost of in-state tuition for undergraduate and graduate courses for all current Guard members. Through the Maryland National Guard State Tuition Assistance Reimbursement (STAR) program, the state currently reimburses up to 50% of in-state tuition costs for certain Guard members. Released today, the governor's FY21 budget increases funding for the STAR program by 200% over last year's funding level.
Tax Relief for Military Retirees
Governor Hogan is again introducing legislation to eliminate all state taxes on retirement income received as a result of military service. Since taking office in 2015, Governor Hogan has taken numerous steps to fulfill his commitment to eliminate state income taxes on all retirement income. In 2015, the governor enacted legislation to increase the tax exemption on military retiree pensions from $5,000 to $10,000 for retirees 65 years or older, and in 2018, he again enacted legislation that increased the exemption by 50% to $15,000 and lowered the eligibility age to 55. He has also re-introduced the Hometown Heroes Act to provide tax relief for law enforcement and first responders.
Occupational Licensing Reform for Military Families
Governor Hogan is introducing new legislation that would create jobs and boost opportunities for veterans and military families by recognizing occupational licenses from other states. This legislation will provide significant support to military families who are often required to move from state to state, enabling them to more quickly and easily find jobs and opportunities in Maryland. The legislation would be limited to include military, military spouses, and veterans with licenses issued by the Department of Labor's Division of Occupational and Professional Licenses.
New Veterans Affairs Service Offices
The Maryland Department of Veterans Affairs has partnered with the Maryland Vehicle Administration to house local veterans service offices within regional MVAs. This is a first of its kind partnership that will allow greater visibility to veterans and provide easier access to services for veterans and their families. Since its opening in October, the office in Glen Burnie has made contact with more than 1,000 veterans and closed more than 100 cases. We are opening additional offices in Salisbury, Hagerstown, and Bel Air.
-###-